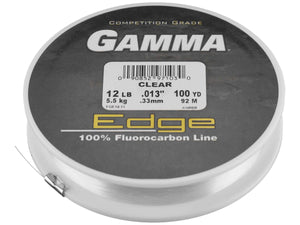 FREE U.S. SHIPPING ON ORDERS OVER $150*
*excludes batteries

Gamma Fishing
GAMMA EDGE
Use GAMMA15 to receive 15% off the world's best fluorocarbon and braided fishing lines.
Confidence When it Counts!
GAMMA EDGE 100% Fluorocarbon is the one line that does it all, giving you a true competitive EDGE (against anglers and fish).  GAMMA's proprietary process provides the line with more desired attributes such as:
     Near invisibility in the water
     Higher Breaking Strength
     Easier and Longer Casts with increased accuracy
     Increased suppleness for improved lure and bait action
     Increased Abrasion Resistance

When your ready to have and Edge, fish GAMMA EDGE Fluorocarbon.
---
More from this collection