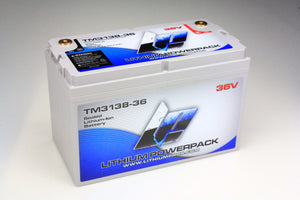 FREE U.S. SHIPPING ON ORDERS OVER $150*
*excludes batteries

Lithium Pros
TM3138-36 38.4V 38Ah Lithium Ion Trolling Battery
DESCRIPTION
The Trolling Motor series of batteries is made for trolling motor and other deep cycle marine applications that can benefit from fast recharge, superior charge efficiency, weight reduction, and cycle lives beyond 2,000 cycles. Built with UL1642 certified Lithium Iron Phosphate cells, the TM series of batteries is recommended for inductive motor loads such as trolling motors, electric motors, motive power, and other forms of energy storage. The TM series of 38.4V lithium ion batteries feature an internal battery management system designed to auto balance the cells and protect for over temperature, over voltage, under voltage, over current and short circuit conditions. They require special battery chargers (see restrictions and notes) and are IP65 water resistant.
TM3138-36 38.4V 38Ah Lithium Ion Battery replaces three BCI group 27 lead acid batteries for marine trolling motors. That's right!  Take three lead acid batteries out and put this ONE battery back in to fish the same time!  Featuring 92 reserve minutes of usable energy all tucked in a standard Group 31 case. (13″ L x 6.81″ W x 8.43″ T)
It features an internal battery management system that insures long life and trouble free service, all safely sealed inside a lightweight box.  This BMS system monitors for over voltage, over temperature, over current, under voltage, and short circuits.  In addition robust cell balancing keeps the pack at its peak capacity.
In spite of all the power contained in this battery, it still ultra lightweight at an amazing 32 pounds!
 *BATTERIES ARE SHIPPED $50 FLAT RATE HAZARDOUS MATERIAL*
ADDITIONAL INFORMATION
---
More from this collection